i don't know about you, but i struggle tremendously with fear as a mom. i read a story this week about a freak accident in which a tree fell on a vehicle, taking the lives of two of four sisters. little girls, blondies, happy little souls that were probably looking forward to going home and playing with dolls, riding their bikes, eating ice cream…and just like that, they are gone. my mama-heart breaks just thinking about it. it breaks for that mama, and it breaks in painful empathy. that could just as randomly happen to my girls.
they are going boating tonight with their dad and grandpa for the first time. they are almost three and four and a half. they are still my babies, and i am afraid. i shower and images of isla falling into the lake water cripple me. i see my husband go to grab her, and she slips out of the life jacket b/c she is so tiny, and she's lost in the muddy water. i'm not even asleep, yet i am plagued with nightmares. i get out of the shower and say to my husband, 'if one of the girls happens to fall in, make sure you grab their physical bodies, not the jackets.'
my fear is met with chastisement, b/c it shows i don't trust him as a daddy. but the truth is, i don't trust anyone, and sadly, i am learning that i don't even trust God when it comes to my babies.
i am hesitant to even admit those words, but i struggle with something that i call, 'the Job complex.' i sing songs that say, 'nothing else matters, but You, Lord,' and 'take it all.' but, if i am being real here, that's not the truth. my girls are everything to me. sometimes, i think they are the actual beat of my heart, and if anything were to happen to one of them, it would just stop completely.
i hate living in this fear. i hate being afraid of losing my child. accidents, violence, kidnappings…it's just too much to bear. God says to cast our cares on Him. He tells me to give Him my heavy load, and take His light one in its place, but what does that really look like? how do i live in freedom as a parent? i don't think God calls us to be careless, but i know He doesn't want me to be crippled by fear and control, either. and then there's that 'Job complex' in the mix that wants to taunt me – He could let all that i love be stripped away in an instant. i don't care that the latter half of Job's life was more blessed than the first. the whole thing troubles me deeply.
this is one of those conversations that i would love to have with God. i'd love to crawl up next to Him, lay my head down and tearfully share every fear i have with Him. i'd want Him to assure me that He wouldn't let any of them come to pass, and then, He'd brush His hand over my mind, and every fear would vanish. i would get up and parent in confidence, trusting Him like never before. i'd take Him at His word. i'd believe what He says. i wish He could just tell me that everything would always be okay and that i could finally breathe again.
this morning, as i was about to walk down our stairs, ava unexpectedly shoved me as hard as she could. we had been playing with one another in eden's room just before, being silly, laughing, tickling, wrestling, hugging and kissing. the silliness was maxed out. so, i know she pushed me out of playfulness, but i had eden on my hip, and i wasn't ready for the sudden blow. my back contorted violently in my attempt to keep my balance. the whole thing scared me to death. after i got my footing, i whipped around and said frantically, 'ava! you never push anyone on the stairs. you could have really hurt mommy, even sent me to Jesus!' shock and regret came over her face and she welled up with tears. we embraced, and she bawled on my chest.
see, Lord? every moment has the potential to be dangerous! and now, i am adding the worry that she will push a little sister on the stairs, or off of the boat, or…or…or… ugh. the list continues and fear is fed once again.
on top of it all, i have to teach them. teach them not to push on the stairs, not to run into the street, not to climb bookshelves and dressers, not to horse around on the boat… how do i teach them, Lord, to be responsible and safe, while leaving fear out of the equation? how do i teach them the seriousness of their choices and to think before they act, without shaming them or making them afraid of everything too? i don't want them to be like me, in that respect, God.
perfect love casts out fear.
what does that mean, Lord? what does that look like in my life? how do i find this perfect love and apply it to my whole being?
Father, i am tired of being scared. i am tired of wondering if something terrible is going to happen to the babies that you have gifted me. You gave them to me to care for and love, but i need Your help to do it right and do it well. i have no rest in my spirit. i am constantly on edge. i need Your rest and Your peace as a mother, Lord. Holy Spirit, i need a miracle. i need Your perfect love to come and cast the fear out of my heart. teach me how to pray, Lord, and more importantly, help me to hear Your voice. even if You answered me, i don't know that i would hear You, so please help me to be quiet enough inside to hear You. thank you, Father for my children. they are so rare, like precious jewels. help me to trust that You love them even more than i do. help me to trust You completely. i give this day to You, Lord, and if i pick it up again, please remind me to keep laying it back down at Your feet. in Jesus' name, i pray. amen.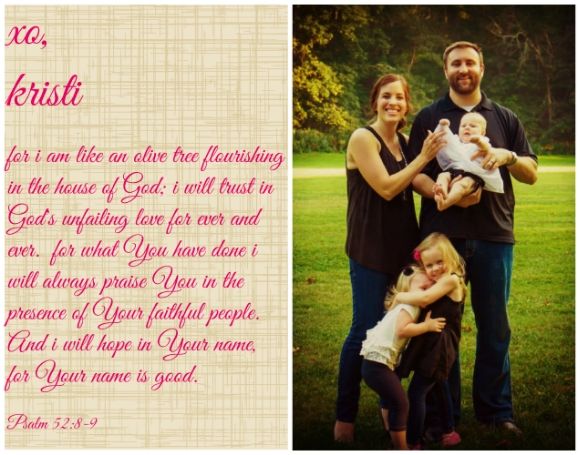 (function (tos) {
window.setInterval(function () {
tos = (function (t) {
return t[0] == 50 ? (parseInt(t[1]) + 1) + ':00′ : (t[1] || '0′) + ':' + (parseInt(t[0]) + 10);
})(tos.split(':').reverse());
window.pageTracker ? pageTracker._trackEvent('Time', 'Log', tos) : _gaq.push(['_trackEvent', 'Time', 'Log', tos]);
}, 10000);
})('00′);