Merry Christmas, friends!
I can't even count the number of posts that I've written to you in my head this month, but, wow, did December just fly, or what?! Crazy to think that tomorrow is Christmas Day. New Year's is right around the corner, and before we know it, it'll be Valentine's and this new baby will be here. Where does blogging even fit in?!
Well, I've been thinking a lot about that and I miss writing, so 2015 will come with a few changes…
Anyway, each year in the past, I've been able to share with you our favorite Christmas recipes and traditions. I'm sorry that I didn't get to that again this year, but here's a little summary of each, and hopefully next year, I will have the chance to create more in-depth posts. (I am especially looking forward to next year's Advent calendar/activities.)
Our family's Christmas traditions include:
Christmas Tree decorating
Trip to see Christmas lights in neighboring WV (complete with pjs worn by all and a carload of Christmas cookies.) If you follow us on FB and Instagram, you know that this year's trip was a major flop.
Cousin Cookie Baking Day – The girls had SO much fun and are STILL talking about this one. What's cuter than little three and five year old cousins baking? Not much!
Gingerbread House making – Also a great time, and I already have some new ideas for next year's houses!
Visiting Santa
Christmas Eve services
Christmas Eve dinner at Pap-pap's and Nana's
Christmas pj and books to be opened on Christmas Eve
Christmas breakfast with my in-laws (at our home)
Visiting family Christmas afternoon/evening
Traditions that I hope to improve on and add next year:
Delivering cookies to our neighbors (b/c I'm not brave enough to carol!)
Visiting the local conservatory (I hear it's spectacular!)
Breakfast with Santa event (A lot of our friends go to this each year, and it seems like a wonderful little tradition!)
Family movie nights (More of them, since this year we only had one.)
Trip into Pittsburgh to see something…anything! (lol That one is for the hubs.)
Advent Calendar (Going to improve on this year's. The Mom Diggity has majorly inspired me.)
Hosting a cookie exchange / friends' night (We kind of did one this year, but it was actually a surprise "Sprinkle" for a dear friend. I'd like to start hosting a real exchange in the years to come.)
Our Christmas morning menu:
Merry Christmas, everyone! Our prayer for you is that the Prince of Peace reigns in your hearts and the favor of God rests on your lives in the coming year. May God bless you with health, faith, and hope today and always.
xoxo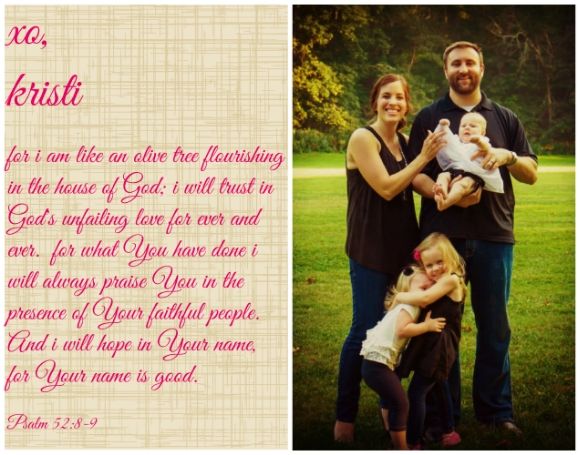 (function (tos) {
window.setInterval(function () {
tos = (function (t) {
return t[0] == 50 ? (parseInt(t[1]) + 1) + ':00′ : (t[1] || '0′) + ':' + (parseInt(t[0]) + 10);
})(tos.split(':').reverse());
window.pageTracker ? pageTracker._trackEvent('Time', 'Log', tos) : _gaq.push(['_trackEvent', 'Time', 'Log', tos]);
}, 10000);
})('00′);