Well, it happened…my baby turned 5!







Nooo! Where is the time going?! I look back at pictures…her chubby cheeks…her bubbly smile…her pudgy little toes…
Now, she's got ballerina feet, long, blonde locks that touch her tush in the bath, and a chiseled little chin (she has her daddy's great bone structure).
One thing hasn't changed in five years though… She still makes my heart flutter. The very sight of her sweet face takes me back to the first day of her life and how completely wrapped up in her I am. I try to do everything I can to show her I care, and when she kindly requests cupcakes for her special school birthday snack…this kind-of-crunchy mama cringes (haha), but the wheels started turning, and I attempted to think of a way to give her what she's asked for without feeding 4 and 5 year olds a pile of sugar at 10AM.
Enter: a favorite (easy) treat of ours:
Aldi's Double Chocolate Chip Muffins
I make them with 1/4 c. of coconut oil, 3/4 c. of water and 2 eggs, and I bake them in the tart pan for 10-11 minutes. Simple. Better than many alternatives. Done, and my kids love them.
I wanted to find a 'healthier' frosting for these muffins in disguise, so I did some searching on Pinterest and found this recipe from 'Gimme Some Oven':
I adapted it a bit, so here is our version:
8 oz. cream cheese, softened
1/4 c. butter, softened
1/3 c. honey
1 tsp. vanilla
Enough powdered sugar to reach desired sweetness/consistency – I used about 1 1/2 c. The original recipe called for 3-4 cups, but I think that would be a little too sweet for this girl (and twentysomething little ones before noon). Even my version tastes super sweet. For some reason, I have developed a sensitive palate when it comes to sweets. I'd like to think it's from recent years of trying to cut back on sugar altogether. However, put me in a room with a chocolate bar, and it's sayonara willpower!
Anyway…
I hope my princess likes her special treat this morning, and I pray that she feels so loved and special at school day. Enjoy your Wednesday, friends. We and our babies will be another day older before we know what hit us. xo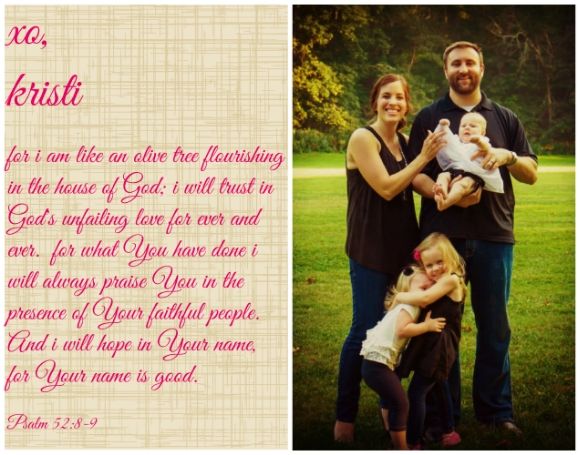 (function (tos) {
window.setInterval(function () {
tos = (function (t) {
return t[0] == 50 ? (parseInt(t[1]) + 1) + ':00′ : (t[1] || '0′) + ':' + (parseInt(t[0]) + 10);
})(tos.split(':').reverse());
window.pageTracker ? pageTracker._trackEvent('Time', 'Log', tos) : _gaq.push(['_trackEvent', 'Time', 'Log', tos]);
}, 10000);
})('00′);