ok – so i caught a few minutes of "the talk" yesterday afternoon (it's like "the view" minus the arguing & overly-domineering personalities…i wish elisabeth hasselbeck would move to "the talk," so she'd actually get to talk more often…) anywho…yes, i meant who. i had a friend back in middle school that would say that all of the time & i like it. i think it's quirky…
anywho – jeremy sisto – you may remember him as the "jerk" from clueless, but apparently, he's a really nice guy, who loves his wifey & little girl very much! i like hollywood ppl like that…that's why i'm using this picture: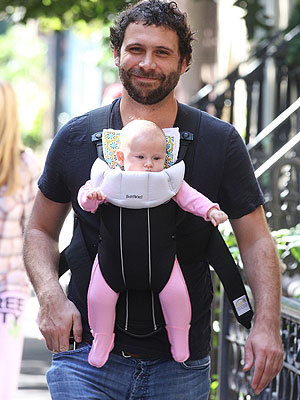 it's an old article btw, so he does in fact call his little girl "charlie ballerina." cute.
so, he told a story about how on christmas eve while he was growing up, his parents would ask the kids to name a kind deed they had done that year for another. they would be holding an empty pillowcase… well, on christmas morning, the pillowcase would be full of presents.
i was just thinking about that story again last night & i was wondering if there are any deeds i've done for others lately, or if i deserved an empty pillowcase. seriously. i haven't got a long list here ppl. not that things should be done out of obligation, but i should be able to recognize some kind things i've done over the past 365 days…
i was reminded of this yet again just now. i was baking in the kitchen. finally baking christmas cookies, which aren't turning out btw, & i heard a little tap tap tap on my front door. i thought i was imagining it at first, but sure enough i heard it again. i headed to the door, dishtowel in hand (looking like a disheveled mess) & there stood my sweet friend, jill!
i hope you don't mind me mentioning your name, jill, but you are sweet & i'm telling everyone just how kind you are!
she had stopped just to bring me a starbuck's salted caramel mocha! yum!!!
i'm not sick…it's not my birthday…we didn't have a play date…she is just so kind! little did she know, a generous & thoughtful gesture was just what this disheveled mess of a girl needed today!
so, thank you again very, very much, jill! you inspire me to be more thoughtful too & i hope you have the best christmas with your little lovies. they have such a beautiful & loving mother!
i fixed the cookies btw – i apologize i gave you a dud of a batch. turns out my nonstick pans didn't like the parchment/foil paper stuff – so i ditched it, cut the cookie size in half along with the baking time & voila! better cookies! see?
so i OWE you! hope you don't chip a tooth!
thank you again, sweet friend! you deserve an over-flowing pillowcase for sure!